The Albany Shellfish Hatchery
---
Supporting Western Australian Aquaculture
The State Government in partnership with the Aquaculture Council of WA has established the Albany Shellfish Hatchery to support the expansion and diversification of aquaculture in WA. The hatchery produces spat (juveniles) to support shellfish aquaculture production throughout the State. The hatchery is licensed to produce Akoya pearl oysters, edible oysters (blacklip, rock and flat oysters), blue mussels and scallops.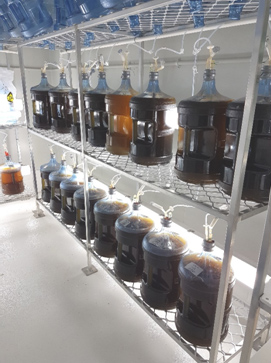 The Hatchery Process
Broodstock are spawned at the hatchery to produce larvae. The larvae are tended daily until the end of the larval cycle when they are introduced into settlement tanks. The larvae settle onto individual grains of crushed shell. After they metamorphose into spat, they are transferred into the nursery system. They remain here un til they are an appropriate size to be transferred off-site to grow-out farms.
All species of bivalve molluscs cultured at the hatchery feed on microscopic algae. Microalgae are cultured from axenic (bacteria-free) stock cultures, harvested, and fed to the spat through a continuous feeding system. Four different species of microalgae are cultured at the hatchery to deliver a balanced diet to the spat.
The hatchery was designed and constructed to take advantage of the pristine local water quality, and to enable the maintenance of the most stringent bio-security standards.  It benefits from a state-of-the-art biosecurity ultra-filtration treatment system and individual, temperature-controlled water supplies throughout the building.  Each room can be quarantined, and the entire facility can operate under quarantine conditions if required.
For more details, please click the link below to visit the hatchery's website:
Albany Shellfish Hatchery